'K' Range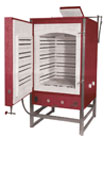 Features
Low density brick lining
Elements situated in door, backwall, sidewalls & base
1300°C firing temperature for all models
Low kilowatt input for maximum size of chamber
Casing finished in two tone stove enamel incorporating air gap to ensure low skin temperature
Door gasket seal
Ventilation via roof damper on K501-565
Full selection of kiln furniture and control equipment available for all models
One year warranty
Type

Capacity

Firing Chamber

External Dimensions

Weight

kW

Amps

Price

L

ft³

W

D

H

W

D

H

kg

lb.

1 ph

3 ph

£ Pounds Sterling

mm

in

mm

in

mm

in

mm

in

mm

in

mm

in

K351

106

3.75

457

18

457

18

508

20

737

29

940

37

1524

60

227

500

7

30.5

10

poa

K376

127

4.5

457

18

457

18

610

24

737

29

940

37

1727

68

272

600

8
35

12

poa



K401

170

6

457

18

610

24

610

24

737

29

1092

43

1727

68

300

662

12
53

18

poa


K451

227

8

610

24

610

24

610

24

889

35

1118

44

1753

69

372

820

15
66

22

poa


K501

283

10

610

24

610

24

762

30

889

35

1118

44

1829

72

399

880

18
78

26

poa


K551

425

15

610

24

915

36

762

30

965

38

1473

58

1905

75

600

1323

22
96

32

poa


K561

510

18

610

24

915

36

915

36

965

38

1473

58

2057

81

700

1543

26
113

38

poa


K565

708

25

762

30

915

36

1016

40

1143

45

1499

59

2007

79

1200

2646

36
157

52

poa

Product Description
The Firebird 'K' 8-model range of front-loading kilns is a natural extension to our popular 'E' range but with additional steelwork and increased insulation. Additional elements are situated in door & backwall for even distribution of heat. Manual roof dampers are fitted to models K501-K565 (optional extra for other models). The dampers can be fully automated at additional cost.
These kilns are for use at up to 1300°C, utilising a double-skinned casing construction with air-gap. This ensures that they operate with a minimum heat loss and a sensible outside casing temperature. The kiln is fully lined with low density brick including the door. The door can be specified as right or left-hand opening and is gasket sealed.
The frame design incorporates an integral floor stand. All electrical connections including the rear wall mounted thermocouple can be accessed from the rear of the kiln after removing the rear cover-plate. Heating elements are situated in sidewalls, backwall, base & door. All models operate from 230VAC and are available in single phase or 3-phase + neutral versions.
Other voltages available on request
All models are covered by our 1-year warranty.
When planning the installation of a kiln attention should be given to the size of the kiln room, floor strength & ventilation requirements. Space should be allowed to enable the kiln to be manoeuvred into position and to meet the minimum clearance distances. The floor must be level and strong enough to support the weight of the kiln and its workload. Adequate ventilation is essential especially in enclosed situations - forced ventilation is recommended.
The price quoted is for the kiln only,controller, furniture, thermocouple type etc can be added to build up your kiln package
Minimum clearance distances are:-
Above: 750mm 48"
At sides: 150mm 12"
At rear: 450mm 36"