'T' Range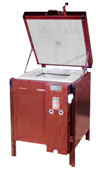 Features
Low density, dry lined construction for ease of replacement
1300°C firing temperature for all models
Double skin casing including stainless steel inner panels
Low kilowatt input for maximum size of chamber
Lid gas springs on larger models

Two tone, stove enamelled finish casing
All electrical connections concealed behind hinged front control panel
Full range of kiln furniture & control equipment available
One year warranty including elements
Type

Capacity

Firing Chamber

External Dimensions

Weight

kW

Amps

Price

L

ft³

W

D

H

W

D

H

kg

lb.

1 ph

3 ph

£ Pounds Sterling

mm

in

mm

in

mm

in

mm

in

mm

in

mm

in

T25

74

2.6

381

15

381

15

508

20

673

26.5

783

31

838

33

120

265

5

22

8

poa

T35

106

3.75

475

18

457

18

508

20

737

29

864

34

838

33

124

273

7

30.5

10

poa

T50

145

5.0

533

21

533

21

508

20

813

32

940

37

838

33

142

313

9

39

13

poa

T55

154

5.5

457

18

457

18

737

29

737

29

864

34

1057

42

150

330

10

44

15

poa

T60

210

7.5

533

21

533

21

737

29

813

32

940

37

1067

42

159

350

12

52

18

poa

T80

297

10.5

914

36

533

21

610

24

1270

50

1092

43

1245

49

400

882

18

78

26

poa
Product Description
These kilns have been developed to meet a growing demand for a good quality, efficient top-loading kiln for use at up to 1300°C, operating with a minimum heat loss and a sensible outside casing temperature. The kilns are compact in design with detailed attention paid to both the construction and the quality of materials used. The casing has a double skin with air-gap. The inner skin is stainless steel to give added protection against corrosion. The kiln is fully lined with low density brick, the lid can be either brick or fibre lined. The brickwork is of dry lined construction for ease of replacement. The lid is fitted with gas springs on all models.
The price quoted is for the kiln only; controllers, thermocouple types and furniture can be added to build up your kiln package
Heating elements are inserted in all four walls terminating behind the hinged front control panel. All electrical repairs can thus be carried out from the front. All models are available in single phase or 3-phase + neutral versions and are covered by our 1-year warranty.
When planning the installation of a kiln attention should be given to the size of the kiln room, floor strength & ventilation requirements. Space should be allowed to enable the kiln to be manoeuvred into position and to meet the minimum clearance distances. The floor must be level and strong enough to support the weight of the kiln and its workload. If sited in an enclosed space forced ventilation is recommended.
Minimum clearance distances are:-
Above: 1000mm 48"
At side: 150mm 12"
At rear: 150mm 12"